Our Mission
The Depot Community Food Centre, formerly the NDG Food Depot, is a community-based non-profit organization founded in 1986 that works collaboratively with other community partners to address issues of food security in NDG and the surrounding areas.
Our objectives are:
To increase access to healthy food for community members in situations of low income, in a respectful and dignified manner.
To reduce social isolation and increase participants' connections to a variety of supports.
To strengthen skills, knowledge and healthy habits around food.
To foster personal growth and community engagement among participants.
To promote knowledge of poverty, social justice and food system issues, and create opportunities to take effective action on these issues.
Our approach
Nathalie, Participant and Kitchen Volunteer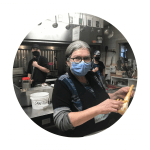 "Coming here, with all the activities, gets me out. You have somewhere to go where you can meet people. That's the thing, The Depot breaks isolation. It's so important"
Sign up for our monthly Newsletter