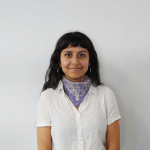 Alejandra Pérez
She / her
Garden Education & Engagement Coordinator
capousse@depotmtl.org
(514) 483-4680 x 217
Behind-the-scenes and on-the-scenes, Alejandra plans, organizes and animates in the collective gardens. She sees food as our medicine and gardening as a way to share knowledge and build and transform community. While she loves languages and bike maintenance, her ideal Friday night involves cooking with friends, making music or reading.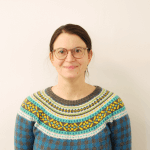 Caitlin Hayward
She / her
Data & Evaluations Manager
data@depotmtl.org
(514) 483-4680 x 209
Caitlin is a master of all things data and is a key resource in ensuring all programs are running smoothly at The Depot. In her spare time she hikes, swims, gardens, and reads, all the while dreaming of spreadsheets. Every time she wishes her life was more exciting, a database crashes.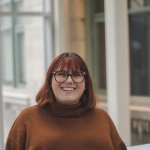 Cassandra Belliveau
She / her
Boîte à Lunch NDG Assistant Coordinator
assist.bal@depotmtl.org
Cassandra brings a passion for working with children to The Depot! With her experience working with kids and her past work as a baking instructor, she aims to spark curiosity in the kitchen and hopes to encourage healthy eating and cooking habits with Boîte à Lunch participants. She loves to see the progress made by the children and teenagers week by week in the workshops, and to see their knowledge of cooking and nutrition expand. She is flexible and eager to learn, and excited to share her love of cooking with Boîte à Lunch!
Dahlia Chan-Tang
She / her
Boîte à Lunch NDG Coordinator
dahlia@depotmtl.org
(514) 483-4680 x 218
Dahlia coordinates our after-school cooking workshops, sharing her passion for all things food. In her spare time, Dahlia loves nothing more than to lose herself in a good book, however, she is content just to garden, knit or spoil her cats. And also share a meal with friends.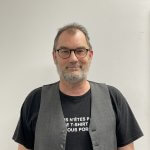 Daniel Roy
He / him
Operations & Social Support Coordinator
danielroy@depotmtl.org
(514) 483-4680 x 231
Daniel, recently a grandfather, deploys his expertise in logistics and in helping the participants of the Depot. A fan of micro beers, he spends most of his time on weekends, either on a hike or chipping away at his endless renovations.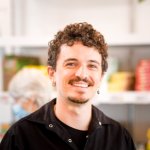 Gabriel Robert
He / him
Food Distribution Coordinator
gabirel@depotmtl.org

I am a passionate individual and hyperactive adventurer whose energy comes from (multiple) morning coffees, that I can then put to good use for the cause at the Dépôt. I have at heart to support people through demanding times, and make a smiling difference in their days and journey with the community. I am doing my best work when working in demanding and dynamic environments, which is very helpful with my role of Distribution coordinator at the Marché Dépôt. I also bring along management, problem-solving and organizational skills acquired in the private sector from my previous life in the Perfume Industry abroad. I am also keen to share my unlimited love for olive oil with anyone that wants to hear it.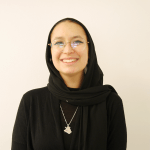 Houda Kerkadi
She / her
Community Engagement Coordinator
houda@depotmtl.org
(514) 483-4680 x 223
Houda Kerkadi joined the team as the community engagement coordinator. There, she runs the social justice club as well as helps our community members with resources and referrals. You can find her either at the Depot restaurant DJ-ing in the resource desk or in the markets hosting a social justice club meeting drinking coffee and discussing local politics with our community members where she feels happy that she managed to find a place that combines her two main passions: coffee and politics.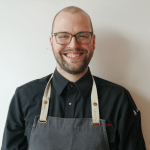 James Barrington
Food Skills Manager & Meal Program Coordinator
cuisine@depotmtl.org
(514) 483-4680 x 221
James was the community chef, overseeing the production of over 400 meals a week made by volunteers. He currently oversees the Depot's food skills programs. James came to The Depot after a decade of work in the industry, from hotels to catering, and has experience in a wide array of different types of cuisine. His passion is food made with anything you grew yourself.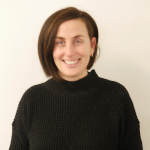 Jennifer Brennan (Currently on Maternity Leave)
She / her
Nutrition & Food Skills Manager

Jen guides The Depot on all things nutrition and supports the Food Skills team's extensive programming across NDG. She is passionate about the importance of access to healthy whole foods and the role they play in promoting overall health and wellness in our community. In her free time, Jen loves to enjoy the outdoors with her family.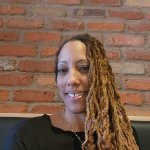 Jennifer Moran
She / her
Volunteer Coordinator
benevolat@depotmtl.org
(514) 483-4680 x 204
Jennifer has a strong background in community work having spent over 5 years working mainly with the Black community in Cote des Neiges. "I'm very excited to join The Depot team, and contributing to the incredible work we do here." Jennifer loves all kinds of food, but most especially raisin bread grilled cheese and bacon sandwiches. Come say hi the next time you're in the resto space.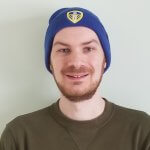 Jonathan Kourakos
He / him 
Assistant Distribution Coordinator
dist.assistant@depotmtl.org
When not working Jonathan enjoys spending lots of time in nature (hiking, camping, long walks in the woods), and also watching his favourite soccer teams or Montreal Canadiens hockey games. At The Depot, Jonathan oversees the day-to-day operations of the Marché Dépôt, where participants can collect their food baskets. And ensures that this is done in a way that is both respectful and dignified. Jonathan is at The Depot to help local members of the community have easy access to a wide variety of quality, healthy food options. And to ensure that the process of picking up a food basket on-site is easy, and done so in a welcoming, friendly environment.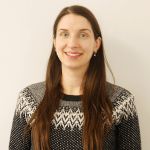 Julie Kourakos
Development & Donor Relations Coordinator
developpement@depotmtl.org
(514) 483-4680 x 200
Experienced in community development and public policy, Julie is passionate building a better, more just society by strengthening our collective social programs. When she isn't buried under grant reports and applications, Julie enjoys sharing meals with her family and quoting Simpsons episodes.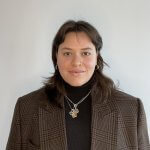 Karima Dajani
She / her
Communications Coordinator
karima@depotmtl.org
(514) 483-4680 x 222
With a background in Communication Studies & Sociology, Karima is driven by her passion for all aspects of communication and its intersection with society and culture as a whole. Karima is passionate about the importance of access to healthy food for all and the crucial role that this access plays in community building.
Kim Fox
She / her
Director of Programming
programmation@depotmtl.org
(514) 483-4680 x 203
With a decade of experience growing urban agriculture and food security initiatives, Kim contributes planning, operational and evaluation support to the Depot's programs. She is passionate about food's capacity to connect us to each other and the environment, and how it reflects culture and politics. In a parallel life Kim is a painter with a passion for music, cooking, gardening, biking and travel adventures.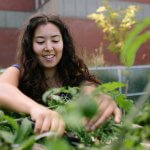 Kristen Perry
She / her
Urban Agriculture Manager
ag.urbaine@depotmtl.org
(514) 483-4680 x 216
Kristen is a Japanese-Canadian woman carrying her passion for justice and community-building into all aspects of her life. In urban agriculture work, her goal is to use popular education to increase social connectivity, autonomy, and access to fresh produce. As a community organizer, she prioritizes nurturing spaces for connection, healing, and growth, and moving resources towards BIPOC-led groups and movements.
Marguerite Kinfack
She / her
Director of Administration & Human Resources
office@depotmtl.org
(514) 483-4680 x 219
Marguerite has had several careers in rural development, international cooperation, and training and capacity building. She is passionate about community development. Now, at the Depot, she works in administration, finance and human resources management.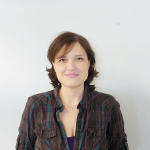 Marie Lise Chicoine
She / her
Receptionist
marielise@depotmtl.org
(514) 483-4680 
Melanie Romer
She / her
Good Food Market Coordinator
marche@depotmtl.org
(514) 483-4680 x 208
Melanie grew up at the Depot (quite literally) and fondly remembers many years of Christmas food drives, summer block parties and Halloween zombie fundraisers. She loves having the opportunity to participate as staff in this wonderful organization after watching it grow for so many years.  Her caring nature and ability to remember names and details about the people she meets makes her a perfect fit for running the community markets. She also cares greatly about changing our food systems to be more inclusive and more sustainably driven. In her spare time, she explores the world, tends to her various gardens, walks with her dog and embroiders a picture of the beautiful things she sees.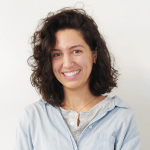 Natalie Berghuis
She / her
Regional Boîte à Lunch and food literacy Coordinator
natalie@depotmtl.org
(514) 483-4680 x 226
Natalie is a registered dietitian that not only sees food as a means of building health, but also as an incredibly powerful community builder! In her downtime – if she's not baking up a storm – she's pulling out her ukulele or curling up to a good ol' rom-com.
Nicolas Braesch
He / him
Distribution Manager
distribution@depotmtl.org
(514) 483-4680 x 205
Believing that our society needs a revolution, Nicolas does his part by furthering The Depot's mission and strengthening local distribution networks within our communities. When not selling fruits and vegetables, he takes care of his family, drinks apple juice and daydreams about being a pop singer.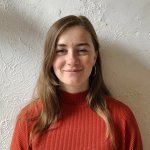 Rachel Schleifer
She / her
Community Kitchens Coordinator
alimentation@depotmtl.org
(514) 483-4680 x 210
As coordinator for the Community Kitchens programs, Rachel is happy to be melding her interests in education and in food justice at the Depot. She is passionate about facilitating community spaces and working directly with people to empower them in sharing their knowledge and skills with other members of the community. When she's not at the Depot, you can find her playing music with her friends, biking around town, and swimming in her favourite lakes!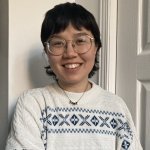 Rachel Takasaki
She / they
Administrative Assistant: Food Systems
admin.programs@depotmtl.org
(514) 483-4680 x 227
Rachel joins The Depot after working in the fields of organic farms for the past couple years. She is passionate about building a more just food system that grows people's autonomy and relationships with others and the land. Now, she supports the various initiatives within the urban agriculture and food distribution programs. Otherwise, you can find them cooking meals with friends, trying to improve their skateboarding skills, or getting their hands in the dirt as much as possible.
Renate Betts
She / her
Manager: Mobilization, Engagement & Support
outreach@depotmtl.org
(514) 483-4680 x 206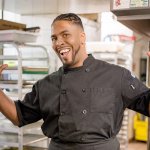 Sebastian Britton
He / him
Community Chef
sebastian@depotmtl.org
(514) 483-4680 
Hello, my name is Sebastian, or Chef Sebo and I'm the new community chef at The Depot. I bring my " Trinadian" style of cooking along with my passion, love for food and dedication to making great flavourful dishes, and bake good for all who come to eat. Working here has offered me a chance to give back to the community I grew up in. Also, it feels good to see the difference I could make in people's lives through my cooking. Excited to see where this new chapter in life will bring me.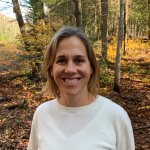 Tasha Lackman
She / her
Executive Director
tasha@depotndg.org
(514) 483-4680 x 207
Tasha leads a passionate and diverse team dedicated to working collaboratively to address issues of food insecurity and poverty.  She is a driver of change and bridge builder committed to social justice and equity.  Her journey into the non-profit sector followed a more than a decade long career as a commercial real estate lawyer at a leading national law firm. Tasha was always an active volunteer in a number of key organizations in Montreal, and five years ago when she decided to pivot full-time to mission driven work, she began at McGill University in a strategic role in University Advancement.  She comes to The Depot after over three years at the Foundation of Greater Montreal, where she acted as Vice President of Community and Philanthropy.  When she is not working, she loves playing in the forest with her family, or curling up with a novel.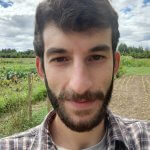 Yanni Bouziotas
He / him
Urban Agriculture Coordinator: Community Gardens
jardins.communautaires@depotndg.org
(514) 483-4680 x 229
Yanni has an extensive background in sustainable agriculture and organic farming. He has worked on several different farms, and ran his own organic vegetable farm business for two years. Yanni brings his passion for horticulture, sustainable development, building community, and food security to the role. On weekends, Yanni enjoys hiking, camping, cinema and board games.
Food Skills Facilitators

Our Food Skills Facilitators are a committed group of chefs, nutritionists, teachers, and students who have in common their passion for cooking and sharing healthy food with our community members. You'll find them running the show in all our Community Kitchen and Boîte à Lunch workshops!
Ça Pousse! Facilitators

Our Ça Pousse! team works hard to build new gardens and offer workshops and garden sessions to students, seniors, and the Montreal community at large. Through our Ça Pousse! projects we improve the urban ecosystem, promote health and wellness, and use the power of growing food to connect people to their environment and each other.