Prepare and enjoy a traditional meal from different countries throughout the world.
Our cultural cooking workshops are led by a community co-animator from the neighbourhood who has recently arrived from the country we are presenting. They work together with our Food Skills Team to create a traditional menu to share with participants. The cultural co-animator also shares a small presentation on their country of origin. This workshop welcomes up to 35 participants who divide up into teams and prepare one of the four recipes selected. When its ready, we sit and enjoy the meal together.
This is a family friendly event with fun kitchen tasks for kids as well as an activity table and facilitator to accompany them. This activity is a great way to learn about a different culture, get to know members of your community, learn new recipes, and enjoy a unique and delicious meal.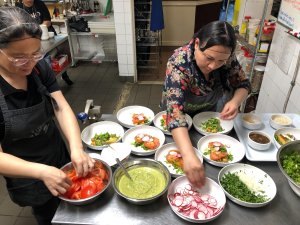 Please contact RACHEL SCHLEIFER  for more information
EMAIL or 514 483 4680 x 210

Check out some recipes from our previous workshops and recreate them at home!
Brazil – Brazilian Homemade Chicken
Brazil – Vegan Brazilian Feijoada
China – Dumplings, Rainbow Noodles & Chinese Milk Egg Pudding
China – Saozi Noodles, Qie La Xi, Cucumber Tofu Salad & Sweet Dumplings
Korea – Japchae, Buchujeon, Hobak Gochujang Jjigae & Gyeongdang
India – Fragrant Basmati Rice, Vegetable Biryani, Raita, Chole & Carrot Halwa
Iraq – Tapsi, Tomato Cucumber Salad, Okra Stew & Mahalabi
Morocco – Tajin, Harira, Msemen & Ghriba
Syria – Fattoush, Rice Stew with Beef and Pees, Raita & Biqalawa
Ethiopia & Eritrea – Tsebhi Birsen, Injera, Cabbage Avocado Salad & Papaya Fruit Salad