Not even a pandemic can stop Nathalie from staying connected and getting involved .
After losing her job in 2015, and with three children at home, Nathalie started coming to The Depot for emergency food support. She quickly got involved as a volunteer in the kitchen "to give back and for a weekly break from her kids." Over the years she has participated and volunteered in many of the Depot's programs. "Coming here, with all the activities, gets me out. You have somewhere to go where you can meet people."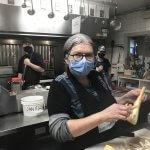 When COVID-19 first hit, Nathalie didn't leave her house for anything but the essentials. "I missed so much what I was doing at the Depot, the activities. During COVID I couldn't do anything. I was stuck at home alone. As soon as I saw that volunteer opportunities had reopened for people over 60 like myself I called immediately. My mental health depended on it." She now volunteers weekly in the Depot kitchen with Chef James helping prepare over 150 healthy meals a day for The Depot's emergency food baskets.
"That's the thing, The Depot breaks isolation. It's so important"