Pop-up markets of fresh, seasonal and affordable products across our community.
The Good Food Market's winter programming
Last year, with the goal of continuing to provide access to healthy food at affordable prices throughout the winter, we launched a project to sell pre-made baskets of fresh fruits and vegetables to members of the community. It was relatively successful and we have brought it back this 2022 season to continue building on and improving it in order to better serve you.
On our new website linked below, you can purchase 3 sizes of baskets, as well as a selection of local honey, bread and eggs. We also sell imported tree nuts. 
This service operates weekly and you can meet a staff member at our truck to pick up your basket outside the Walkley Centre, the Saint Raymond Centre and inside the Depot itself (6480 Somerled). There is no weekly commitment required. 
Note that in June, the outdoor pop-up summer markets will return as usual to our 3 NDG locations. Follow our information on the Market or Depot facebook page or on the Depot website and don't hesitate to contact us with your questions. 
If you would like to join our mailing list for a weekly reminder to order, please sign up here.
Follow the market on Facebook for updates and to connect with other marketgoers!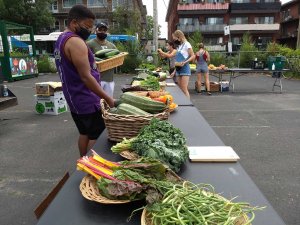 Contact THE GOOD FOOD MARKET TEAM
for more information about the markets

EMAIL or 514 483 4680 x 208

Contact GAVIN
to get involved as a market volunteer

EMAIL or 514 483 4680 x 204