We manage the borough's individual garden plots.
We provide guidance and support for NDG's three community gardens as well as two in Côte-Des-Neiges. Residents can sign up to garden one plot, allocated on a first-come first-served basis. Please note that these gardens are very popular and the waiting list can be over two years long.
How to Get Involved
Sign-up for the waiting list is now managed by The Depot! Only Montreal residents are eligible to get a garden plot. If you live in another municipality (such as Côte-St-Luc), contact your local municipality to participate in a garden near you.
To be added to the waiting list for NDG community gardens:
Fill out the registration form.
DOWNLOAD THE FORM

To learn more about the community gardens program, please consult the Reference Guide for Community gardens online.
Attach a proof of residence and a proof of ID (a proof of residence can be a bill or official government letter dated no less than 3 months and a proof of ID can be a driver's license or health card – both sides of the card must be included.)
Return the form and proof of residence to The Depot by email, or by mail or in person at the addresses listed at the bottom of this page.
Thanks to our funders: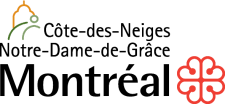 Contact YANNI BOUZIOTAS for more information
EMAIL or 514 483 4680 x 229