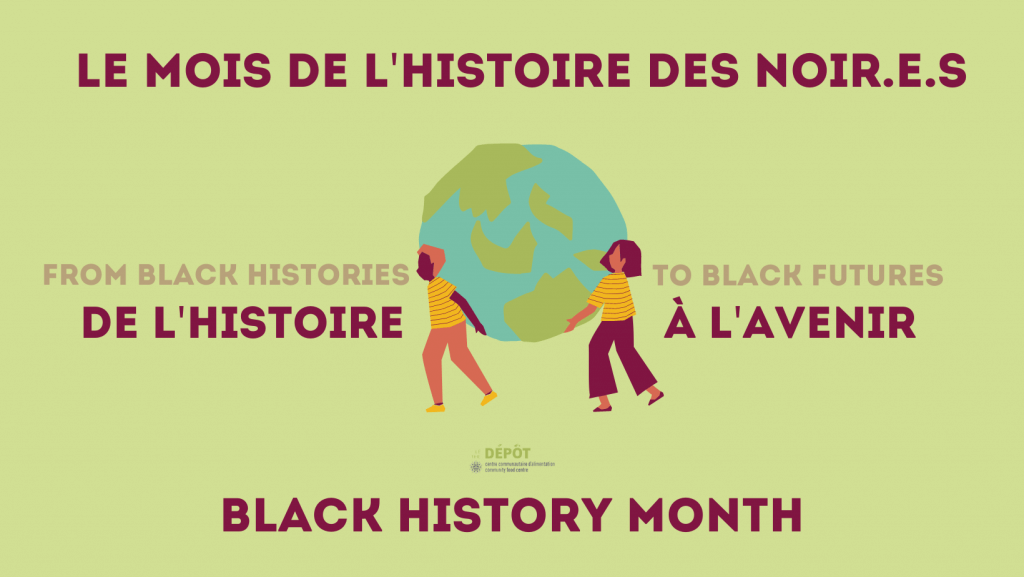 From Black Histories to Black Futures (2022)
Almost everybody knows that February is Black History Month. A celebration that began in 1926 and later became a month-long celebration in 1976. As anyone who has attended a public or private school in Canada knows, Black History Month often celebrates famous Black Americans like Martin Luther King Jr., Rosa Parks, Jackie Robinson, and Madame CJ Walker — people from the past who have made major contributions to our present-day culture. While knowing our history is important, many people are wanting to look beyond our past and present and celebrate Black Futures, visualising the kind of world we need in order to achieve a future that holds space for Black people. NDG is home to one of the oldest black anglophone communities in Canada. We know that it is also home to a large number of immigrant families from all over the world. Issues of poverty and food insecurity disproportionately affect communities of colour and results from entrenched systemic inequities. We see this in NDG where over 25% of the population is living below the poverty line.
So, as the world gets ready to spend a month predominately highlighting the past and present of Black Lives, the Depot has put together a Black History Month series focused on envisioning Black Futures titled From Black Histories to Black Futures to address how food access, education, advocacy and community connection are directly related to the systemic inequities faced by the Black communities. Each week will have a subtheme, such as, community care, mental and physical health and financial access to further intersect the connections between the Black experience and food insecurity that we encourage you to explore.
This series will focus on 5 actions we urge the larger community to participate in, in order to push for a future in which our Black family members, neighbours, co-workers and friends are free and self-determined:
Learning: on Mondays articles related to food insecurity and Black communities will be shared for communal learning.
Participating: on Tuesdays, events put on by the larger community will be promoted, encouraging community members to participate.
Listening: on Wednesdays, resources or media concerning key issues among Black people that correlate to food insecurity will be uploaded.
Redistributing: on Thursdays, organizations with donation pages or fundraisers will be promoted in order to endorse redistribution of monetary resources to communities in need.
Reflecting: on Fridays, staff videos on self reflection in regards to Black History Month will be posted in order to encourage others to reflect on their roles during and outside of Black History Month as co-resistors.
During From Black Histories to Black Futures, and always, we will uplift Black voices, organizations and leaders telling stories we need to hear and connecting them to the forefront of a vision of society that invests in all people and communities.
Join us this Black History Month in learning, participating, listening, redistributing and reflecting. From Black Histories to Black Futures is a time to give ourselves the freedom and permission to follow radical imagination and visualize the food access everybody deserves, starting with Black liberation.
Cooking & Conversations: Mental Health & Food Insecurity
As part of a Black History Month collaboration between The Depot and the Black Healing Centre, we are hosting a 2 hour event where we create a safe space to talk about Black mental health and the power of food. This event came about in the hopes of creating a healing space for Black community members of the larger NDG area.
The moderator, the Depot Communications Coordinator, Akira and our two guest facilitators: Samantha, Founder of the Black Healing Centre and Makeda, Food Skills Facilitator at the Depot will start a conversation about the intersection of mental health and food accessibility while participants get a guided opportunity to cook a hearty meal of Red Bean & Spinach baked Kelewele with plantain from a free meal kit delivered to them beforehand!
You must live within greater NDG to participate.
Your registration can include a total of 6 people who reside at the same address.
Week 1: Community Care (Feb 1st – 4th)
Week 2: Mental and Physical Health (Feb 7th – 11th)
Week 3: Financial Access (Feb 14th – 18th)
Week 4:
Looking to the Future
 (Feb 21st
– 25th)